---
Lifetime; such a strong combinations of words to put together, also has a powerful impact in marketing campaigns. In light of Cryptic Studios releasing the pricing options for Champions Online this fall, I have to admit that lifetime subscriptions are an attractive option.
I hate to be the one to say this, but lifetime makes the most business sense. After much hacking on calculator keys, I figured out if you played for 3 years and paid monthly you're blowing $540.00. If you went by way of 6 month payments, you're paying $360.00 to play a superhero. Now, if you are playing for that long, as a life time subscriber your breaking even at the 13 month mark if you're paying monthly. How many games did I dribble out monthly or bi-annual payments to? A lot.
This isn't a new option offered by MMORPG studios, two years ago Turbine offered "founders" (people who played from the beta stages) a $200.00 lifetime subscriber offer, a hundred dollar discount over the regular rate. They both have a similar pricing plan; let's look at it on paper:
Lifetime:            $ 199.99 plus extras.
12 Months:       $ 59.99 (save $29.99 woohoo!)
Monthly:           $ 14.99 (normal mmo rate)
Now comparing this to Lord of the Rings that offered a lifetime subsctiption from it's release in 2007.
Lifetime:           $299.99

12-Months:      $143.40 ($11.95/month – Save 20%)

6-Months:        $77.70 ($12.95/month – Save 13%)

3-Months:        $41.85 ($13.95/month – Save 7%)

Monthly:          $14.99
Even though Champions is the better deal, it looks like taking the lifetime plunge makes hella sense to me for both games. I know players that have played from open beta and didn't take the offer back then and they are sorry. Also there are players that have left and glad they didn't, knowing that they weren't "LOTRO LIFERS". What would it take to make a player a lifer for their mmo of choice? I know that there are a few games already running that I feel would be great candidates for lifetime memberships.
The top five best candidates for MMORPG's Lifetime subscriptions:
5) Phantasy Star Universe: I recently ranted about Sega's fumbling of this popular sci-fi franchise. But I feel that for $9.99 a month, players would be happy to plunk down $100.00 to not having to fiddle with monthly payments, ever. To update you on my status, I found PSU on Newegg.com for $9.99 and ordered it; it should be here next week. A good friend of mine mentioned this game while we were discussing the topic, I haven't played it yet but I am told that the playerbase is very loyal; we will see.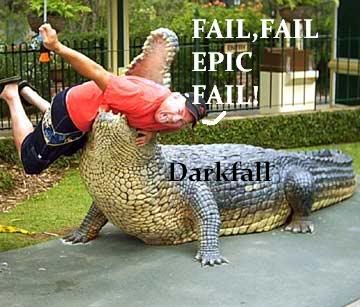 4  Darkfall: Love it or hate it, I put Darkfall (which I call the JR Ewing of the MMO world) on this list for pure chance that Aventurine will get their act together and clean it up. Darkfall has a lot of potential, and if it were to get harnessed would be a pvp powerhouse. Do I think that it will last long enough to break even versus paying a monthly, I don't know. But it would be interesting to see how many people (if any) signed up as life timers.
3) World of Warcraft: Been around from 2004, been running for almost 5 years now. If you paid bi-annually then it made more sense to go with a lifetime subscription. But they don't offer one because Blizzard thinks they will make more money, and they are right. I know a few guys that played from beta and are still going strong; they are self proclaimed wow-lifers. What would make a lifetime subscription sweeter to guys like them, if they offered any and all future expansions free to life-timers? Wouldn't that be nice? Not a chance.
2) Everquest 2: Another MMO that's been around since 2004. Has a strong player base and people continue to return to EQ and EQ2 time and again. Undoubtedly, it's a classic and would be great as the "fallback game" when people are 'tweening mmo's. $200.00 to be able to log into Norrath freely? Why not, it's like those old pair of jeans, yeah those with the hole in them, the comfortable ones you can't bear to throw out. That is the feeling I get from the EQ community, they feel comfortable and "at home" there.
1)   EVE Online: Older than wow, older than EQ2 and has a growing player base of 300,000 users. Could a lot of those accounts be second accounts, yep. There are players that have over 200-300 million skill points that qualify for lifer status. Paying a onetime and I mean onetime charge for EVE keeps the monotonous, "oh I have to buy a game card A-GAIN" out of the game. I also know of some players that return once a year for 5 days, claiming that they "play" the game. Now they don't have to worry about being blessed with free time from CCP, they can say they are player all they want, just log in to train skills. In 5 years they can probably fly anything.

Also paying another monthly bill can be a pain. One thing that EVE offers that if somewhat different is the option to use player earned currency or "isk" to buy PLEX's, another form of monthly subscription. If they offered Lifetime PLEX's for say $10 Billion isk, would players jump at the chance? I afraid so, and the scary thing is that some players can afford it; if you have that much money then you qualify for this program.
But you can't deny that paying even $300.00 for EVE makes a lot of sense. I am now an official EVE player, my skill queue that I set up on EVEmon runs into next year. If they offered me a lifetime subscription, I couldn't pay it with in game currency if it's in the billion ranges, but I would definitely dig into the wallet for a lifetime sub. Hey, if I want some downtime and play another game or a try a new beta, all I would have to do is to log in, fill the passive training queue and be on my way. EVE is game that you don't have to keep pressing W in order to advance in skills, I like that option; you could say that EVE made a lifer out of me.
Now what new, upcoming games would you like to see offer lifetime subscriptions? These are the top five best candidates in my opinion.
Top five future titles I would like to see offer lifetime subs.
5)  Jumpgate Evolution: Will not be the spiritual successor to EVE, but looks like a darn good dogfight shooter. If they implement a static world and real MMORPG elements could be the sci-fi shooter hit of the year.
I'm looking forward to trying this one out when it gets released in…maybe…probably….I don't know for sure, September. I'm sure it will capture the hearts of the old Jumpgate players, and there are a surprisingly a lot of them. If they can hold true to the old design and add some improvements they might have some long term loyalty from the old player base.
4) The Secret World: Funcom's Top Secret level-less and skill-less MMORPG in development is set to be released 2012. I'm not sure if the world is going to be around at that time, but I'm looking forward to playing this one. A horror based game set in current times in realistic backgrounds, sounds smecksy. Just point me to New York, thank you very much.
I have played some of Funcom's games, I think that they might be learning from old mistakes and might get it right this time. It's an aggressive, unique genre for an MMO and the marketing campaign they have started has already gone viral. If members of the TSW forum figure out all of Funcom's puzzles that they keep throwing at them, it will keep them busy until 2012; we have some lifer quality players there. After all that work, will they pay $200.00 to do it forever? Go on the forums, those guys are either dedicated geniuses or obsessed madmen, either way they I think they would go for it.
3) Mortal Online: Open world PVP seems that is making a strong move to the front of modern MMORPG's. Swedish game company Star Vault has a chance to capture Dark fall's runoff, they seems to be very polished and professional so far. They keep in contact with their active player base; seem open, honest and sincere. These are good qualities when addressing their customers, and some of the main ingredients that Dark fall's staff lacks.
On those qualities alone they have already acquired a good reputation for an indie studio. They are working hard on Mortal Online itself, if they can get it right, clean up the bugs and make a AAA rated title they have a shot to be one of the major nails in Dark falls coffin. It is a prediction that I am making. Now if they combine all of these, I am sure that some of the "Hardcore PVP" crowd will have no problem dropping some dough like I just dropped you, and wow you dropped a nice sword, kthxbye.
2)  Aion: I like the subscription plan for the Chinese version of Aion. Pay for the time you are going to use alleviates a lot of the wasted time that you use up when you are not playing. But what if you didn't have to worry about wasting time? That's because you have the rest of your life. From what I've seen Aion is a very well made, polished title.
Aion quickly surpassed 3 million players in China and Korea alone; they have the chance of doubling that here. American's although are creatures of habit and if they find something that they love will want to own it and not worry about micromanaging MMO timeshares. If anyone has reserved the collectors edition for $20.00 over the regular box price, they are defiantly lifescriber™ material I could see lifetime subscriptions making a big hit here, am I right Avsok?
1) Star Wars: The Old Republic: Oh yeah, it's going to be that good. And I could just imagine all the old Star Wars Galaxy players and millions of Star Wars fans flocking to this game. And even if they get it half right off the beta, people will be soulbound to this game faster than Yoda whips out his lightsaber.
Even for $300.00 I think that players will buy a lifetime sub before they even played Star Wars: The Old Republic. That's because I see the dedication of Star Wars fans, they are fans for life and even if they can capture that spirit, they will have a loyal playerbase for a life. I just hope that don't screw it up like…cough…cough…cough, but I don't think they will, I feel the whole industry learned from SOE and Bioware is just a better studio IMO.
There is a darkside to having a lifetime subscription though. If you can think back to 2007 and remember how Flagship Studios offered Hellgate: London "founders" or lifetime subscriptions for $150. How would you feel if you were a Matrix fanatic and your servers are about to be shutdown? I'm sure that must hurt and they might regret doing it, but I feel that sometimes when the pros outweigh the cons just go with it. If your love your game that much, or just have the money to blow, take some of the guessing out of it and sub for life.
And wear it like a badge of honor. I subbed or life on Hellgate: London, I got my money's worth and still don't regret doing it to this day. I just don't trust Bill Roper as far as I can throw him, but I will still admit that $200.00 for at least 3 years of Champions Online might be the best deal in town. All they have to do is keep it running that long, crosses fingers for all Champions Lifescribers™
What game would you play for life?
Play safe,
Ink